Sheila Ford
Hello and thanks for taking the time to visit my site.  The fact that you show an interest in my music really means a lot to me. For that, I thank you!
This has been a incredible year with so much going on. Lots of music, travel, and wonderful experiences that I would love to share with you. While you are visiting, please take a moment to sign up for my email list, in the space provided below, so that you will know what is happening in Sheilaville. :-)
Have I got a present for you!! It gives me great pleasure to announce that my single, SHARE, taken from my number one album, HERE YOU ARE, on Quantize Recordings, is now availabe on Traxsource! This package includes some extremely HOT mixes from the one and only Kenny Carpenter, Earl Tutu & John Khan, DJ Spen, Earl Tutu & John Khan, and of course the original LP mix by such an incredible musician, Michele Chiavarini!! Head right on over to Traxsource and let me "Share my world with you!!"


Click on the link below to purchase SHARE on Traxsource.
I am extremely excited to announce the release of my latest album entitled HERE YOU ARE on Quantize recordings. It is available as a physical CD, and as a digital download at your favorite online music stores.



Click on the photo below to purchase Here You Are in CD format at Amazon.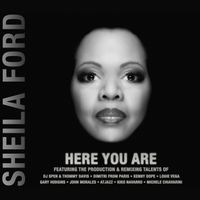 Click on the photo below to purchase Here You Are in digital format on Traxsource!